---
ClearMAX is designed to clear cloudy, muddy pond water quickly, usually within 1-3 hours depending on the size of the pond.

ClearMAX will quickly restore pond water to a brilliant shine.
ClearMAX has unique properties allowing suspended particles in water to attract together and fall to the bottom of the pond where they can be vacuumed out or removed by filtration. This result is an extremely fast clearing of the pond.
ClearMAX is safe for use with fish, plants, birds or domestic animals that drink from the pond.
(Replacement for Rapiclear Flocculent from Crystal Clear)
ClearMAX Flocculent 16 oz Treats 8,000 gallons
ClearMAX Flocculent 32 oz Treats 16,000 gallons
ClearMAX Flocculent 1 gallon Treats 64,000 gallons
Customer Reviews
Write a Review
Ask a Question
Filter Reviews:
pond
water
service
root particles
abundance
amounts
vacuum
applications
Starts
lettuce
02/22/2021
Anonymous

United States
10/25/2020
Takako O.

United States
Pond Max Clear Max
Not arrived yet.
08/24/2020
Dan L.

United States
just what I needed
Once again PLAYITKOI delivered a great product and fast First time with ClearMax and was impressed. I had an over abundance of lettuce and hyacinth and there was a lot of old root particles in my water that were not being filtered out. Poured in the product and four hours later the bottom of my pond was white. Got out the vacuum cleaned my pond IE 20% water change still cloudy. The next morning it was crystal clear still is. My water never clouds, and this stuff saved the day. No place to post a pick wish I could. Use as directed and you wont be sorry. Do remember there will be a little work to do as always with a pond.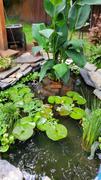 08/09/2020
Tom M.

United States
Clear Max
Added suggested amounts on a warmer Sunny day. No different until the next morning, but a huge difference after 15 hours.
07/29/2020
Anonymous

United States
Sorry but it did not help!
I had heard great things about this product but unfortunately it did not resolve the problem in my pond. But, I want to let you know that the pond Plants that I ordered from you were absolutely amazing! I was totally pleased with how your products arrive! Also, your customer service is outstanding and I will be ordering from you in the future! Thank you