Description
How do you build a waterfall that looks like it was created by a professional? Two words. Black Foam. It's so easy to work with - simply shake, point, and fill - for beautiful, fuller waterfalls.
Expanding Black Foam re-directs waterflow over rocks, filling in cracks and voids to create a professional-looking waterfall. You know how it works: the rockwork is in place, but the flow of water refuses to cooperate. Grab a can of Black Foam, fill in the gaps, and you've got that picturesque "curtain effect." Also helps secure stone edging and contains gravel on bog shelves.
This is no residential construction foam. It's a professional-grade, expanding cellular polymer made expressly for water gardening. Savio Black Foam contains high carbon content for increased outdoor UV resistance and long-term durability. The formulation is closed cell, and will not harden or shrink. Ready to trim in less than an hour, it blends discreetly into liner and rock, and bonds easily to rockwork. Powerful propellant and efficient can design deliver 750 cubic inches of cured foam - that's an impressive bead of foam ½' in diameter and 575' long. Applicator included - no additional parts to buy, or lose.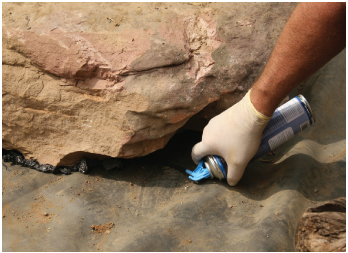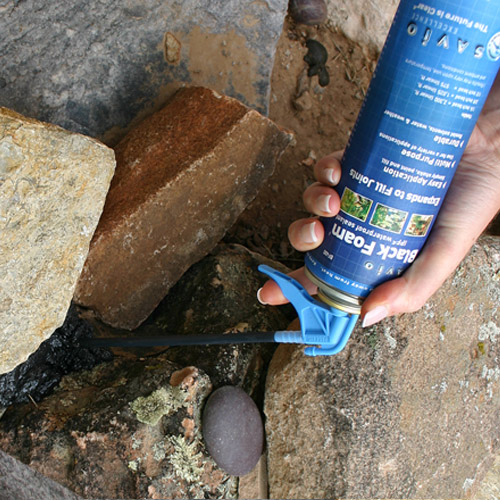 Product Codes
Black foam 12oz with straw applicator - BF350
Black foam 16oz with straw applicator - BF400
Black foam cartridge 24oz - BF500
Black foam gun applicator steel - BF510
Black foam gun applicator plastic - BF510P
Black foam gun cleaner 6oz - BF514
Black foam gun cleaner 12oz - BF515
Black foam gun cleaner 20oz - BF520
Payment & Security
Your payment information is processed securely. We do not store credit card details nor have access to your credit card information.
Customers Who Purchased This Also Bought